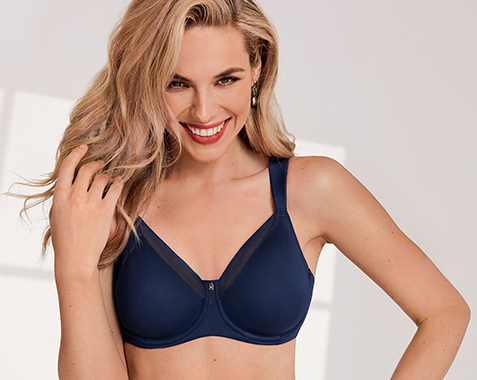 Find your perfect fit
LINGERIE FOR EVERY MOMENT
What You'll need:
Your current best-fitting bra, ideally less than a year old
A tape measure
A large mirror to check that your bra fits correctly
---
LET'S GET started
What is your current Cup Size?
What is your current Band Size?
---
WHAT IS YOUR BAND MEASUREMENT?
HOW DO I MEASURE THIS?
Wrap the tape measure firmly around your underbust. Tip: Always measure in centimeters.
Pull it so that it feels comfortable, but not so tight that it causes discomfort.
What is your current band measurement?
---
How does your band feel?
Our Tip: For a perfect fit, a new band should be on the loosest hook and feel firm but comfortable.
---
How does your cups feel?
Our Tip: Your breasts should be fully contained within your bra's cups, with no excess cleavage coming over the top
---
how do your straps sit?
Our Tip: Straps are at their perfect length when the breast feels supported in its natural position – usually half way between the shoulder and elbow.